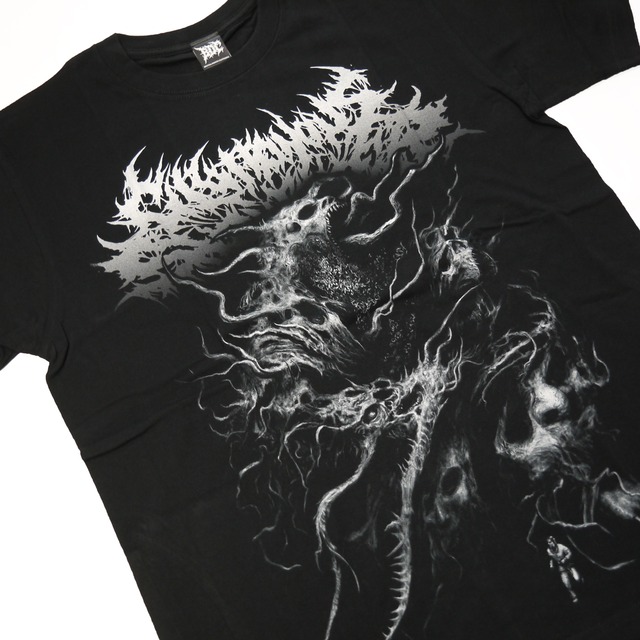 IZANAKI AND IZANAMI T-shirt
¥4,800tax included
¥6,000 20%OFF
the last one
Japan domestic shipping fees for purchases over ¥10,000 will be free.
Shipping fee is not included. More information.
ボディカラー : ブラック
プリントカラー : フルカラー
素材 : 綿100%

サイズスペック (cm)
Tシャツ 6.2 oz
[M] 着丈 : 68 身幅 : 52 肩幅 : 46 袖丈 : 22
[L] 着丈 : 72 身幅 : 55 肩幅 : 50 袖丈 : 22
[XL] 着丈 : 75 身幅 : 60 肩幅 : 55 袖丈 : 23
※ボディには個体差が若干発生する場合があります。予めご了承ください。

【デザイン・仕様】
日本古来の神話・聖典の『古事記』に記される1シーン、黄泉国で伊耶那美神(イザナミノカミ)に追われる伊耶那岐神(イザナキノカミ)の場面をブルータルに描きおろしデザイン。

約縦56cmの大版インクジェットプリント、前面デザインのみです。
白黒デザインをあえてインクジェットで表現し、丁寧な質感と非常に精細な描写を可能にしました。Tシャツもやや厚手のボディでタフさも兼ね備えガッツリ着用いただけます!

Model : 168cm M着用

ーーーーーーーーーーーーーーーーーーーー
江川敏弘によるブルータルデス・ブランドBDCのライン
『Gluttonous Slaughter(グラトナス・スローター)』

グラトナス・スローターはブルータル・デスメタルのコンセプトにより近いアートワークで、BRUTAL(残虐・残忍)・GORE(流血・殺人)・SICK(病的)の3つのイメージを鮮明かつ前面に押し出したブランドラインです。

Brutal Death Clothing is all artwork by Toshihiro Egawa.

IZANAKI AND IZANAMI
IZANAKI AND IZANAMI in full Izanaki(Izanagi)
no Mikoto and Izanami no Mikoto.
The central deities in the Japanese myth Kojiki.
This art is inspired by the Kojiki and brutally expressing a scene from the Japanese ancient that the oldest extant chronicle.

We always use one of the best quality ready made
shirts in Japan. They are very durable T-shirts made of
100% cotton, use beautiful and detailed inkjet print to
faithfully replicate Toshihiro Egawa's original art.

We ship worldwide.
Payment from overseas can be made using Amazon Pay or PayPal.
Please never use a bank transfer.
Add to Like via app
Reviews

(467)

Shipping method / fee

Payment method
¥4,800tax included
¥6,000