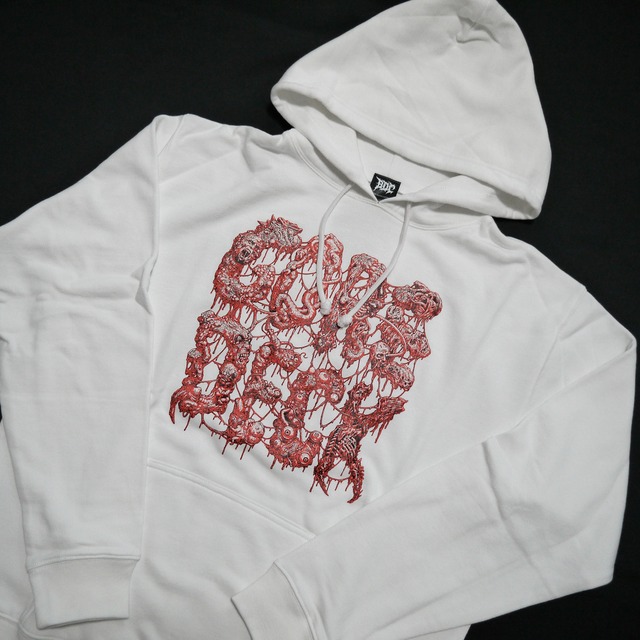 GOREDECK Hoodie White / ゴアデッキ
¥5,400tax included
¥9,000 40%OFF
*Limit of 3 per order.
Japan domestic shipping fees for purchases over ¥10,000 will be free.
Shipping fee is not included. More information.
ボディカラー : ホワイト
プリントカラー : 5カラー
素材 : 綿100%

・Unisex clothing
サイズスペック (cm)
10.0oz
[M] 着丈 : 66 身幅 : 55 肩幅 : 48 袖丈 : 60
[L] 着丈 : 70 身幅 : 58 肩幅 : 52 袖丈 : 61
[XL] 着丈 : 75 身幅 : 63 肩幅 : 55 袖丈 : 62
[XXL] 着丈 : 80 身幅 : 68 肩幅 : 58 袖丈 : 63
※ボディには個体差が若干発生する場合があります。予めご了承ください。

『Brutal Death Clothing x GOREDECK』
江川敏弘によるブルータルデス・ブランドBDCプロデュースによるGOREDECKアイテム

【デザイン・仕様】
2012年から開催された江川敏弘主催デッキアート展示イベント『GOREDECK』の為に作られたデザイン。Brutal Death Clothingによって取扱いがなされています。

GOREDECKの文字から起こした肉と骨、内臓、胎児などのモチーフをふんだんにグロテスクにまとめたロゴデザインを、4版からなるシルクスクリーンを贅沢に使い表現しました!
江川敏弘による細密な原画も熟練の職人による手刷りシルクスクリーンによって完全再現され、唯一無二のアイテムとなっております。

バックにももう1版、ボディと同色(グレーには黒)でシルクスクリーンプリント。
さまざまなシーンで活躍する裏パイル地で、タフさもありすっきりとしたシルエットで着用していただけます。

GOREDECK Hoodieをご購入の方には先着でGOREDECKステッカーをプレゼント!

◇こちらの商品はヤマト運輸での発送です。配達時間のご希望がある方は備考欄に下記の時間帯のどれかを記入お願いします。
午前中 / 14~16時 / 16~18時 / 18~20時 / 19~21時

Model : 174cm XXLサイズ着用

ーーーーーーーーーーーーーーーーーーーー
江川敏弘によるブルータルデス・ブランドBDCのライン
『Gluttonous Slaughter(グラトナス・スローター)』

グラトナス・スローターはブルータル・デスメタルのコンセプトにより近いアートワークで、BRUTAL(残虐・残忍)・GORE(流血・殺人)・SICK(病的)の3つのイメージを鮮明かつ前面に押し出したブランドラインです。

Designed for the deck art exhibition event GOREDECK
sponsored by Toshihiro Egawa that has been held since 2012.

About our Print Hoodies
We always use one of the best quality ready made hoodies
in Japan.
They are very durable hoodies made of 100% cotton, use
plastisol(Oil-based) ink for the silkscreen printing and it is made
by Japanese artisans.

Due to the effects of the coronavirus, the following countries
cannot use regular airmail and will be shipped by sea.
Please allow approximately 2-3 months from order date for your
order to arrive. This information, if available, is updated
periodically.
We are sorry for any inconvenience.
Please contact us individually regarding other countries not listed
below.
United States of America, Canada, India, Brazil,
Russian Federation

We ship worldwide.
Payment from overseas can be made using Amazon Pay or PayPal.
Please never use a bank transfer.
Add to Like via app
緻密なGOREDECKロゴがSickなアイテム!
Reviews

(467)

Shipping method / fee

Payment method
¥5,400tax included
¥9,000