Unique Archfiend Zip-up Hoodie Black
Japan domestic shipping fees for purchases over ¥10,000 will be free.
Shipping fee is not included. More information.
ボディカラー : ブラック
プリントカラー : ホワイト
素材 : 綿100% 裏パイル地 ダブルジップ仕様

・Unisex clothing
サイズスペック (cm)
9.3oz
[M] 着丈 : 67 身幅 : 53 肩幅 : 45 袖丈 : 59
[L] 着丈 : 70 身幅 : 56 肩幅 : 48 袖丈 : 61
[XL] 着丈 : 74 身幅 : 59 肩幅 : 51 袖丈 : 63
[XXL] 着丈 : 78 身幅 : 62 肩幅 : 54 袖丈 : 65
※ボディには個体差が若干発生する場合があります。予めご了承ください。

江川敏弘によるブルータルデス・ブランドBDCのライン
『Gluttonous Slaughter(グラトナス・スローター)』

グラトナス・スローターはブルータル・デスメタルのコンセプトにより近いアートワークで、BRUTAL(残虐・残忍)・GORE(流血・殺人)・SICK(病的)の3つのイメージを鮮明かつ前面に押し出したブランドラインです。

【デザイン・仕様】
Gluttonous Slaughterの新たなロゴをフロントにプリント
新しい悪魔像を創り出してもいい頃ではないかとの発端から
2020年、江川敏弘がイメージを形にしました。
悪魔のひざに口があるなどありえない所にそれがあったり、
キリスト教の前の信仰対象が悪魔化するなど、古典的な悪魔の創造の仕方を踏襲しています。
着脱がスムーズなパーカーは一枚は持っていたいアイテム

アイテム名でもあるUnique Archfiend(ユニーク・アーチフィンド)は、唯一の魔王、比類なき魔王の意味を持ちます。

Model:174cm XL着用

◇こちらの商品はヤマト運輸での発送です。配達時間のご希望がある方は備考欄に下記の時間帯のどれかを記入お願いします。
午前中 / 14~16時 / 16~18時 / 18~20時 / 19~21時

◇再入荷のお問い合わせには、個別には返信しておりませんのでご了承ください。


Brutal Death Clothing is all artwork by Toshihiro Egawa.

About our Print Hoodies
We always use one of the best quality ready
made hoodies in Japan. They are very durable
hoodies made of 100% cotton, use plastisol
(Oil-based) ink for the silkscreen printing and
it is made by Japanese artisans.

Due to the effects of the coronavirus, the following
countries cannot use regular airmail and will be
shipped by sea. Please allow approximately
2-3 months from order date for your order to arrive.
This information, if available, is updated periodically.
We are sorry for any inconvenience. Please contact us
individually regarding other countries not listed below.
Canada, India, Brazil, Russian Federation

We ship worldwide.
Payment from overseas can be made by PayPal.
Add to Like via app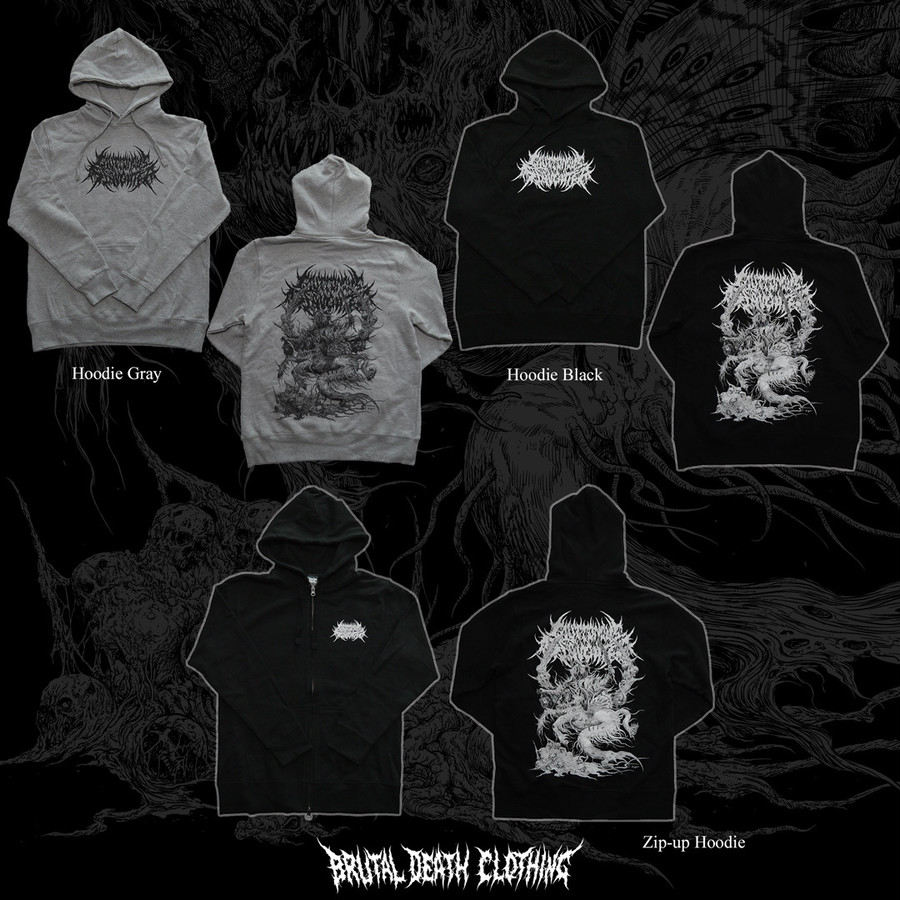 Hoodieはブラックとグレー
Reviews

(394)

Shipping method / fee

Payment method