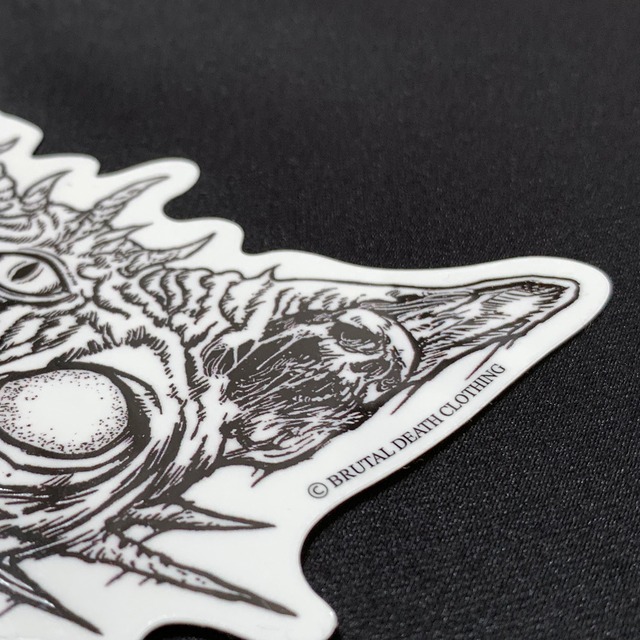 UNHOLY Stickers 01
Japan domestic shipping fees for purchases over ¥10,000 will be free.
Shipping fee is not included. More information.
ステッカーのみをご購入の方は、一律260円の送料となります。

【デザイン仕様】
こちらは1枚ずつの販売です。
ステッカーは全て耐久性・耐候性・耐水性が高く野外使用も可能です。コレクションにも是非!

①SYMBOL OF THE BRUTAL BAPHOMET
代表的な悪魔像をブルータルにオマージュしたシンボル
サイズ:最大 縦11cm × 横9cm

②THE MONARCH OF UNHOLY CAT
邪悪なる猫の君主
サイズ:最大 縦10.5cm × 横9cm

③HIDEOUS TRIUNE TICK
忌まわしいダニの王、体内に無数の蟲を飼う
サイズ:最大 縦9cm × 横9cm

江川敏弘によるブルータルデス・ブランドBDCのライン
『Gluttonous Slaughter(グラトナス・スローター)』

グラトナス・スローターはブルータル・デスメタルのコンセプトにより近いアートワークで、BRUTAL(残虐・残忍)・GORE(流血・殺人)・SICK(病的)の3つのイメージを鮮明かつ前面に押し出したブランドラインです。

Brutal Death Clothing is all artwork by Toshihiro Egawa.

The stickers is water resistance, weatherproof,
durability.

We ship worldwide.
Payment from overseas can only be made by PayPal.
Add to Like via app
Reviews

(431)

Shipping method / fee

Payment method