Nyangoro the Fishmonger Button Badges Set / 光る!ニャンゴロウ缶バッジセット
Shipping fee is not included. More information.
Japan domestic shipping fees for purchases over ¥10,000 will be free.
この商品は海外配送できる商品です。
缶バッジサイズ: 44mm × 3個, 32mm × 2個
44mmサイズ:リフレクター仕様

【デザイン・仕様】
Nyangoro the Fishmonger! 魚屋ニャンゴロウの缶バッジセットが登場!

セット内容:ニャンゴロウ3パターン(44mm)各1個、マグロのお頭(32mm)2種各1個

ニャンゴロウは、何と暗闇で光るリフレクター仕様☆
車や自転車等のライトにかなり光って存在を知らせます。安全対策でバッグに付けてもいいかと思います!
マグロのお頭はマグロの光沢感をイメージしたギラギラホログラムと、ツナの缶詰をイメージした2パターン仕様 ( ˘ω˘ )メタル

(江川敏弘から)
ネコの名はニャンゴロウと言い、実在した『にゃん』という猫がモデルになっています。
ニャンゴロウの名は歌舞伎の演目『新皿屋鋪月雨暈(しんさらやしきつきのあまがさ)』に登場する魚屋宗五郎からヒントを得ています。その演目内容とは余り関連が無いように思われますが、実は登場人物(宗五郎の妹)の死は非常にブルータル(残忍)かつ無慈悲なもので強く惹きつけられます。

ーーーーーーーーーーーーーーーーーーーー
江川敏弘によるブルータルデス・ブランドBDCのライン
『Gluttonous Slaughter(グラトナス・スローター)』

グラトナス・スローターはブルータル・デスメタルのコンセプトにより近いアートワークで、BRUTAL(残虐・残忍)・GORE(流血・殺人)・SICK(病的)の3つのイメージを鮮明かつ前面に押し出したブランドラインです。


Brutal Death Clothing is all artwork by Toshihiro Egawa.

The cat is called "Nyangoro" based on the real cat "Nyan." His bloody chainsaw looks reminiscent of brutal artwork of death metal and goregrind, but in fact, he is just ready to cut up tuna! The name "Nyangoro" comes from the main character of Kabuki performance called "Sogoro the Fishmonger. " You might wonder why I brought Kabuki. It's because Sogoro's sister's death was extremely brutal and merciless; it fascinates me enormously. Nyangoro face buttons glow in the dark! Nyangoro reflects the light of vehicles and keeps you safe at night! There are two types of Tuna head buttons. One is a super shiny hologram, the other looks just like a tuna can.

We ship worldwide. Payment from overseas can be made using Amazon Pay or PayPal. Please never use a bank transfer.
Add to Like via app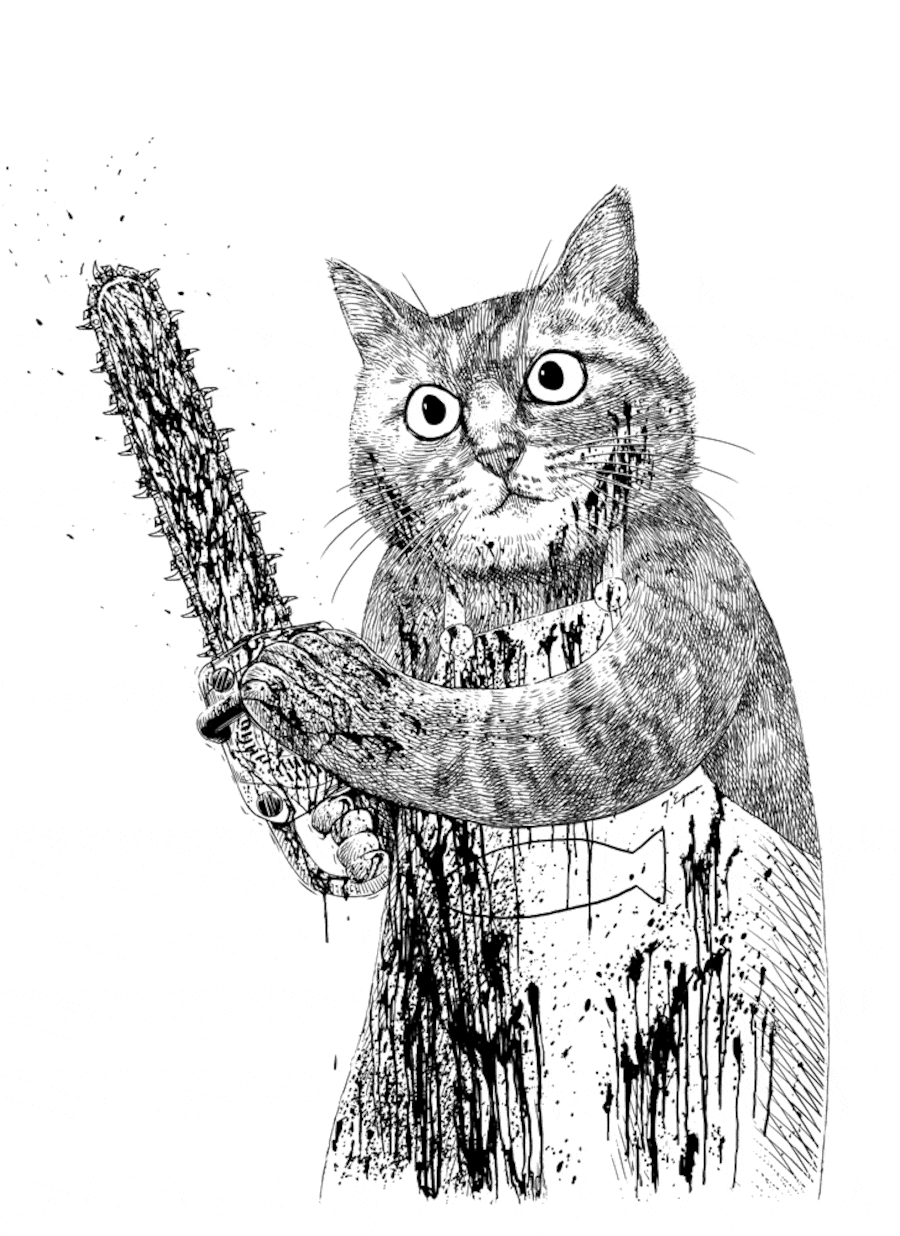 解体猫 ニャンゴロウ!
Reviews

(491)

Shipping method / fee

Payment method