Infernal Cat Mug / 美濃焼 地獄猫マグカップ 国産(非売品ステッカー付き)
¥2,788tax included
¥3,280 15%OFF
Shipping fee is not included. More information.
Japan domestic shipping fees for purchases over ¥10,000 will be free.
この商品は海外配送できる商品です。
サイズ:W114mm x H92mm(取っ手を含む) 口径Φ80mm
容量:300ml 電子レンジ対応、食洗機対応
材質:陶磁器 生産国:日本 MADE IN JAPAN
※非売品地獄猫ちゃんステッカーはマグカップと一緒に入っています

【デザイン・仕様】
数量限定!BDCのアイコン地獄猫ちゃんとロゴがデザインされた美濃焼のマグカップが登場デス!
日常で使いやすいサイズ、光沢感のあるブラックカラーマグ
ロゴと地獄猫ちゃんは触ったときの凹凸感のあるデザインにもこだわりました。
陶磁器ならではの滑らかな口当たりと重厚感も魅力です。
お気に入りのティータイムに是非☆

江川敏弘のBDCデザインと、岐阜県特産品美濃焼の技術を合わせた特別なマグカップに仕上がりました!

「毎日使うマグカップに地獄猫ちゃんがいたら」
「皆さまに手にとってもらえるような素敵なものをお届けしたい」を納得の形にする為、約1年程何度か現地に行き、様々な微調整など繰り返しながら完成いたしました。

▶本品は焼き上がりの絶妙な色の違いやわずかなへこみ(ピンホール)がある場合がございます。焼き物は天然原料、手作業で製造されております。この点については陶磁器の釉薬による商品特性の風合い、個体差のひとつとして予めご了承ください。

BDCの地獄ねこちゃんは、悪魔の超人的な強さとイモータル (不死) を兼ね揃えた猫をイメージ。病気や死すらものともしないという願いが込められています。不死身のINFERNAL CAT地獄猫ちゃん!

◇こちらの商品はヤマト運輸での発送です。配達時間のご希望がある方は備考欄に下記の時間帯のどれかを記入お願いします。
午前中 / 14~16時 / 16~18時 / 18~20時 / 19~21時

This mug is diswasher and microwave safe. BDC is based in Gifu prefecture which is known for Mino ware and being the biggest pottery and porcelain production district in Japan. Mino ware has its roots in Heian period (794-1185). It has been appreciated by Japanese for a long time.

We ship worldwide.
Payment from overseas can be made using Amazon Pay or PayPal. Please never use a bank transfer.
Add to Like via app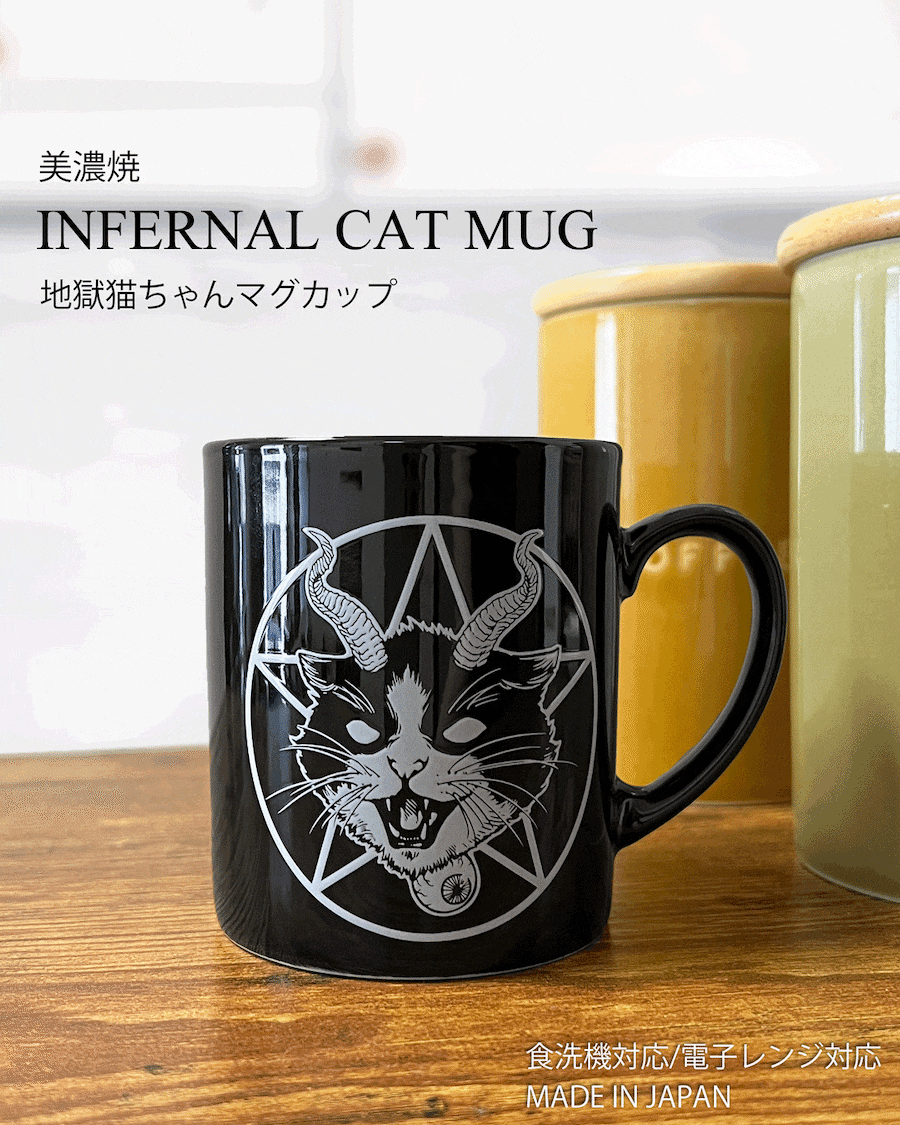 美濃焼の地獄猫ちゃんマグカップが登場DEATH!
Reviews

(491)

Shipping method / fee

Payment method
¥2,788tax included
¥3,280