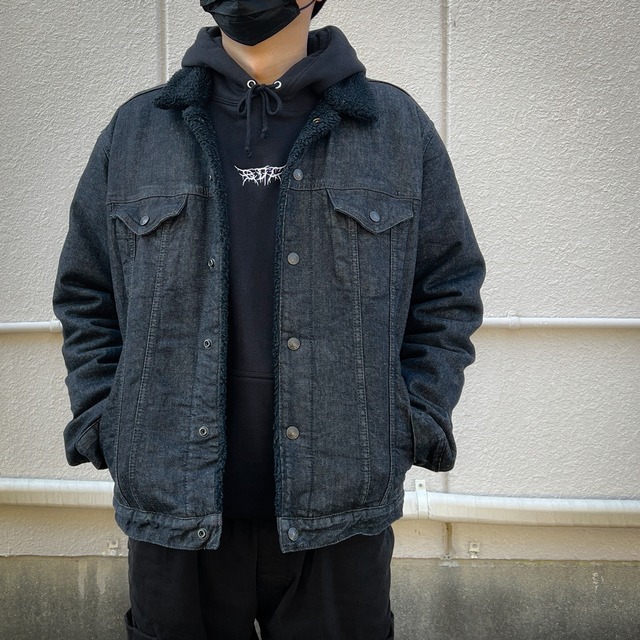 Symbol of the Brutal Baphomet Hoodie
*Limit of 3 per order.
Japan domestic shipping fees for purchases over ¥10,000 will be free.
Shipping fee is not included. More information.
ボディカラー : ブラック
プリントカラー : ホワイト
素材 : 綿52%、ポリエステル48% 、裏起毛

・Unisex clothing
サイズスペック (cm)
裏起毛 10.0oz
[L] 身丈 : 71 身幅 : 58 肩幅 : 52 袖丈 : 60
[XL] 身丈 : 76 身幅 : 63 肩幅 : 55 袖丈 : 62
[XXL] 身丈 : 81 身幅 : 68 肩幅 : 58 袖丈 : 63
※ボディには個体差が若干発生する場合があります。予めご了承ください。

【デザイン・仕様】
前面はBDCのロゴ刺繍をさりげなく施し、バッグデザインは人気のブルータルなBaphometをプリント!袖にはGluttonous Slaughterのロゴを。
裏地は保温性の高い裏起毛タイプで、軽くて丈夫なフーディーに仕上がっており、タフさも兼ね備えたボディです!
アウターやコーチジャケット等の組み合わせにもオススメです。

Model: 174cm XL着用

◇こちらの商品はヤマト運輸での発送です。配達時間のご希望がある方は備考欄に下記の時間帯のどれかを記入お願いします。
午前中 / 14~16時 / 16~18時 / 18~20時 / 19~21時

ーーーーーーーーーーーーーーーーーーーー
江川敏弘によるブルータルデス・ブランドBDCのライン
『Gluttonous Slaughter(グラトナス・スローター)』

グラトナス・スローターはブルータル・デスメタルのコンセプトにより近いアートワークで、BRUTAL・GORE・SICKの3つのイメージを鮮明かつ前面に押し出したブランドラインです。

Brutal Death Clothing is all artwork by Toshihiro Egawa.

About our Print Hoodies
We always use one of the best quality ready made hoodies in Japan. They are very durable hoodies made of 52% cotton, 48% Polyester use plastisol (Oil-based) ink for the silkscreen printing and it is made by Japanese artisans.

We ship worldwide. Payment from overseas can be made using Amazon Pay or PayPal. Please never use a bank transfer.
Add to Like via app
アウターとのコーデでさりげなく刺繍ロゴがいい感じデス
Reviews

(478)

Shipping method / fee

Payment method