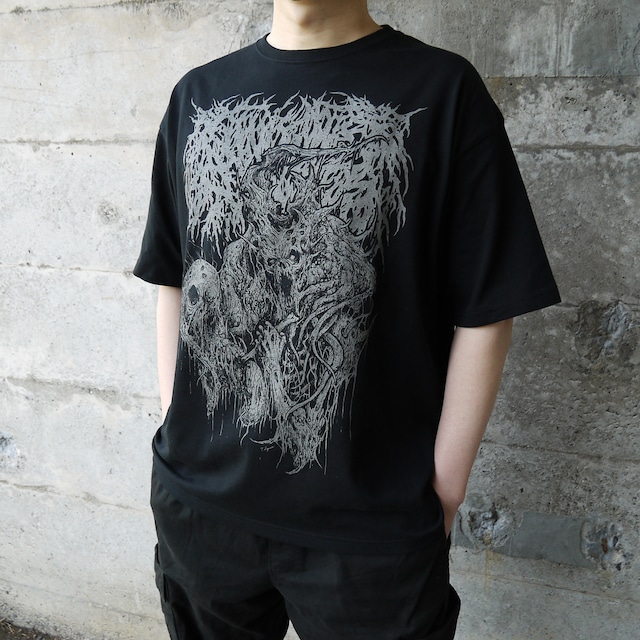 Ghoulish Harvest ビッグシルエットTシャツ グレー(非売品ポストカード付)
*Limit of 4 per order.
Shipping fee is not included. More information.
Japan domestic shipping fees for purchases over ¥10,000 will be free.
この商品は海外配送できる商品です。
ボディカラー : ブラック
プリントカラー : グレー
素材:綿100%

・Unisex clothing
サイズスペック (cm)
5.6 oz
[L] 身丈 : 74 身幅 : 61 肩幅 : 58 袖丈 : 25
[XL] 身丈 : 78 身幅 : 64 肩幅 : 61 袖丈 : 27
[XXL] 身丈 : 82 身幅 : 67 肩幅 : 64 袖丈 : 29
※ボディには個体差が若干発生する場合があります。予めご了承ください。

【デザイン・仕様】
ブルータルデスメタル然とした "意味不要の残虐アートワーク" をフロントに配置した、シンプルかつインパクトあるデザイン。フェスやライブのシーンでも一目置かれるBrutalでSickな一枚です。
落ち着いた色合いのグレーカラーを採用し、幅広いシーンで活躍できる洗練さも備えました。
伝統的メタルシャツを受け継ぐ仕様になっております。
非売品ポストカード付き。

身幅にゆとりを持たせ、程よく肩をドロップさせたビッグシルエットタイプ。
首リブはダブルステッチ仕様で型崩れしにくく、大きめのシルエットが体型カバーにもなります。
ゆったりとした印象と抜け感のある絶妙なバランスで着用でき、トレンド感あるコーデにもおすすめです。
BDCのプリントは、熟練のシルクスクリーン職人の手によって一枚一枚刷られ、仕上げられています。

Model: 174cm L着用
ーーーーーーーーーーーーーーーーーーーー
江川敏弘によるブルータルデス・ブランドBDCのライン
『Gluttonous Slaughter(グラトナス・スローター)』

グラトナス・スローターはブルータル・デスメタルのコンセプトにより近いアートワークで、BRUTAL(残虐・残忍)・GORE(流血・殺人)・SICK(病的)の3つのイメージを鮮明かつ前面に押し出したブランドラインです。

Brutal Death Clothing is all artwork by Toshihiro Egawa.
When you get this t-shirt, you will get a Ghoulish Harvest post card!

About our Print Shirts
We always use one of the best quality ready made shirts in Japan. They are very durable T-shirts made of 100% cotton, use plastisol (Oil-based) ink for the silkscreen printing and it is made by Japanese artisans.

We ship worldwide. Payment from overseas can be made by Amazon Pay and PayPal. Please never use a bank transfer.
Add to Like via app
Reviews

(491)

Shipping method / fee

Payment method